Steel and May offer handmade shirts for business and casual wear from an extensive range of English, Egyptian, Swiss and Italian cotton. We select cloth throughout the season from the current European fabric collections.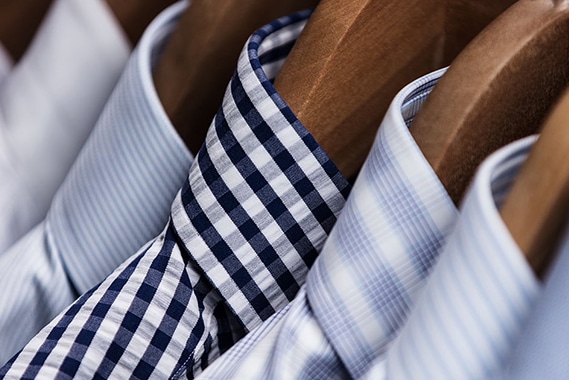 Our Range
We have hundreds of varieties of shirt cloth to choose from, the designs vary from subtle business plains to casual stripes and bold checks. We measure you and and retain your personal pattern.
Steel and May offer a variety of patterns and styling details from different collar and cuff shapes and contrasting trims to pearl buttons. Extra detailing such as personalised embroidery can also be added.
Your handmade shirts will take 2-3 weeks to be completed and will be hand delivered to you. All shirts are tailored in Sydney.
The shirt will fit to perfection and last longer due to the superior quality of the fabrics used. If the collar or cuffs eventually wear out these can be replaced. We will advise you on care instructions to enhance the life of the shirt.
---
Please contact us for more information and to learn about about our extensive fabric selection.
Pricing for our handmade shirts start at $250 AUD.
---