Steel and May clients select from an extensive range of fine English, Italian and Scottish cloth. Many of the highest quality cloths are produced from Australian wool and are woven in Europe.
Fabric Weights
Typically the suit fabrics are graded for both weight (measured in ounces) and wool fineness (measured in 'Super' numbers). The heavier wool cloth is more durable and will tend to last longer than the lighter cloth, but may be uncomfortable in the Australian summer. We recommend fabric weights in the range of 9oz up to 12oz for everyday wear.
Wool Fineness
Typically, wool is graded from Super 80s up to Super 200s. New technology and breeding techniques are allowing us access to finer wools than ever before. However, these ultra fine fabrics are not always ideal for every day use as they are not as durable as the slightly coarser wools. Steel and May recommend fabrics from Super 100s up to Super 140s for everyday wear.
Fabric Patterns
Our range varies every season and includes classic patterns and timeless styles of Pinstripe, Chalk stripe, Herringbone, Prince of Wales, Birdseye, Houndstooth and plains. From here colours are added to bring in different variations and fabric choices.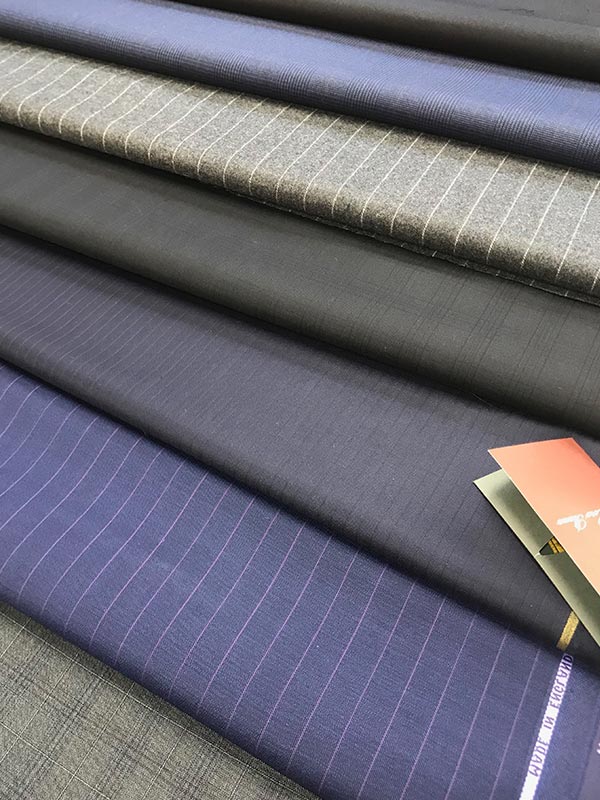 Click on below images to view larger
This is just a small selection of our cloth range for bespoke suits and jackets. Please contact us for more information and to see the full collection including our fabric options available for our handmade shirts.